md INTERIOR DESIGN ARCHITECTURE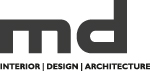 md INTERIOR DESIGN ARCHITECTURE ist die internationale Plattform für hochwertiges Interior Design und anspruchsvolle Objekteinrichtung und damit Impulsgeber und Inspirationsquelle für alle, die planen und einrichten.
md Office berichtet über Produkte und Raumlösungen der Büroeinrichtungsbranche und befasst sich mit den Themen Licht-, Boden-, Wand- und Deckengestaltung, Informations-Technologie, Design, Architektur, Facility Management, Immobilien, Accessoires und Management.
Das md Jahresabonnement umfasst 8 Ausgaben.
Weitere Informationen finden Sie unter www.md-mag.com
md INTERIOR DESIGN ARCHITECTURE is the ideal platform for high-grade interior design and contract furnishings and therefore a unique source of inspiration for all professionals who plan, construct and furnish. md is published bilingual (German and English).
md Office has its focus on products and room solutions from the office furniture sector, supplemented with specialist articles, interviews and trends in ergonomics (only in German language).
The one-year-subscription includes 8 monthly issues.
For further information please visit www.md-magazine.com